Olive oil PDO Lassithi, Crete
More than 500 families of the Agricultural Olive Cooperative of Zakros today cultivate olive trees and produce Extra Virgin Olive Oil PDO Sitia Lassithi Crete. 100% from Koroneiki-variety olive trees and with cold pressing of the olive fruit. It is fruity, well balanced, moderately spicy and bitter. With harmonious pleasant taste, long aftertaste, golden green color and delicate aroma characteristic of Zakros.
Rich in monounsaturated fatty acids that help maintain normal blood cholesterol levels, as well as vitamin E, which acts as a natural antioxidant, Zakros extra virgin olive oil is ideal for those who want to follow the Mediterranean or Cretan diet or to include good nutritional practices in their eating habits.
It is the limestone soils of Zakros, which are rich in ingredients such as calcium, phosphorus, potassium and magnesium that offer this characteristic taste to the olive oil of the region. Together with the arid climate and the excellent quality water of the natural springs, they form a variety of ecosystems and local vegetation with quality and richness of nutrients. The natural conditions, in combination with the modern olive growing and production, with respect to the environment and with the support of science, finally shape the unique aromas and the nutritional value of the Extra Virgin Olive Oil of Zakros.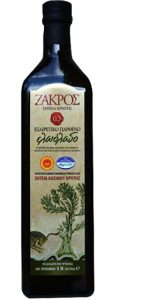 More: http://zakroscoop.gr/